Introduction to Ozeki Cluster
What is Cluster software?
The cluster software makes it possible to set up servers in a clustered configuration. The multiple servers work together with the same operating systems and applications. The cluster software solution provides continuous service availability, protects users against downtime and prevents data loss.
What is Ozeki Cluster software?
Ozeki Cluster is a software that can move a service to another computer in case of hardware failure. It can also synchronize files and directories when the two servers are healthy. This is a great tool you can use to build a reliable fault tolerant system from multiple servers.
Benefits:
1.) Faster than DNS redirects
2.) Works automatically (24/7)
3.) Supports any Windows service
4.) Keeps your files safe

Supported OS:

 Windows 10,8,7


 Windows Server 2019


 Windows Server 2016


 Windows Server 2012


 Windows Server 2008
To operate, Ozeki Cluster has to be installed on both the live and the backup server. Every 10 seconds the two servers ping each other to find out if the other server is on-line. If one of the computers find out the other one is not accessible, it alerts the system administrators using e-mail, sms or voice calls. If the primary server fails, the software starts the configured service(s) on the backup node.
Ozeki Cluster can perform the following tasks automatically:
Detects hardware or software failures
Starts the service on the backup node
Moves the IP address to the backup node
Synchs files between multiple servers

Download free trial
A free trial of Ozeki Cluster can be downloaded by clicking on the following link:
Quick Start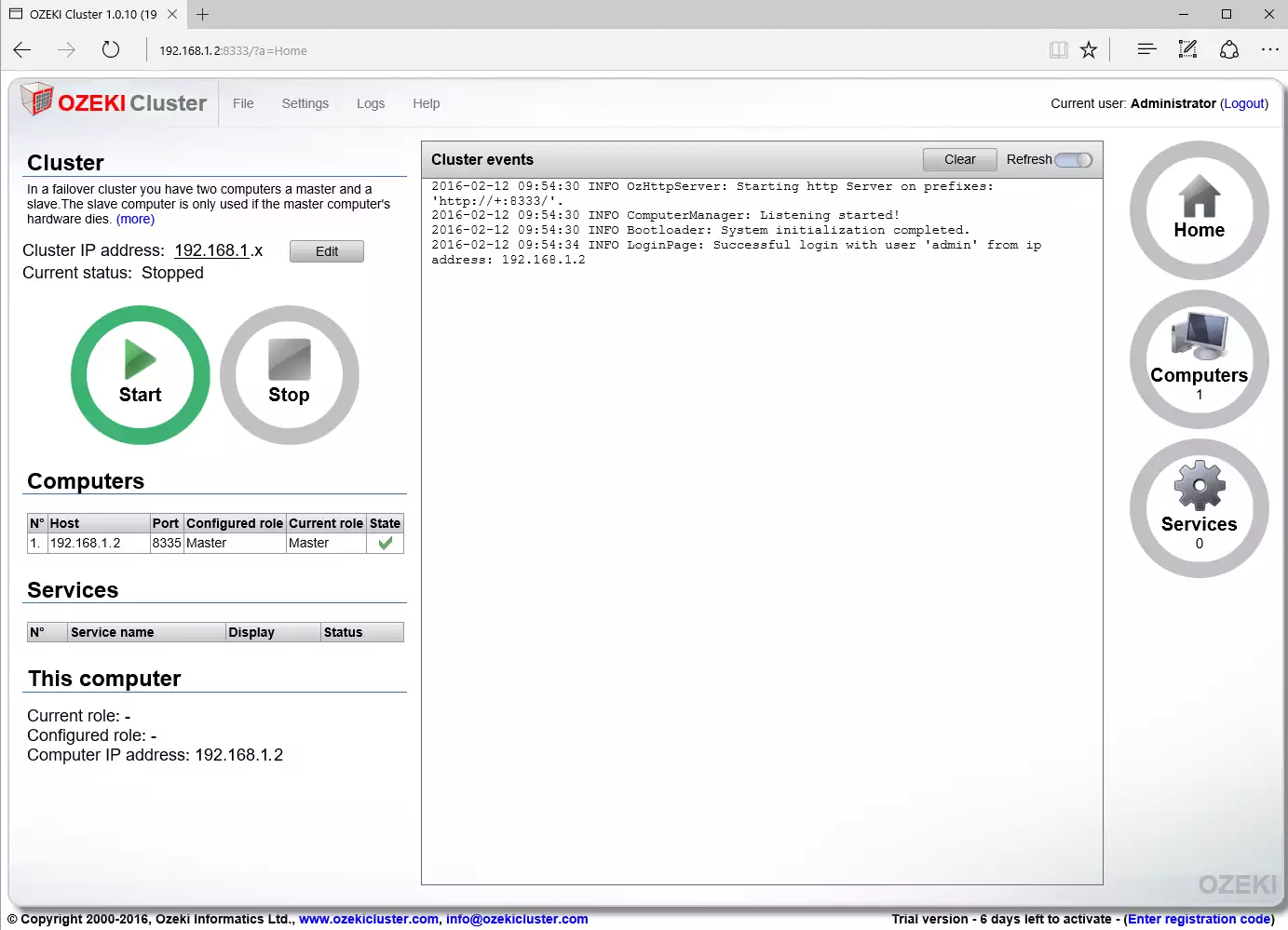 Hardware can fail. To provide a reliable service, you need a solution, that detects failure and acts automatically. OZEKI Cluster automatically moves any service to another computer in case of a hardware failure, and keeps the IP address associated with the service on-line. Ozeki Cluster can also keep your files synchronized. Learn how to setup such a solution.
Installation
Installing Ozeki Cluster is simple and straightforward, you simply download the installation package and run it, then click next on most screens. During the installation you will need to specify the target directory and you will need to provide a password you can use for confiuration.
Configuration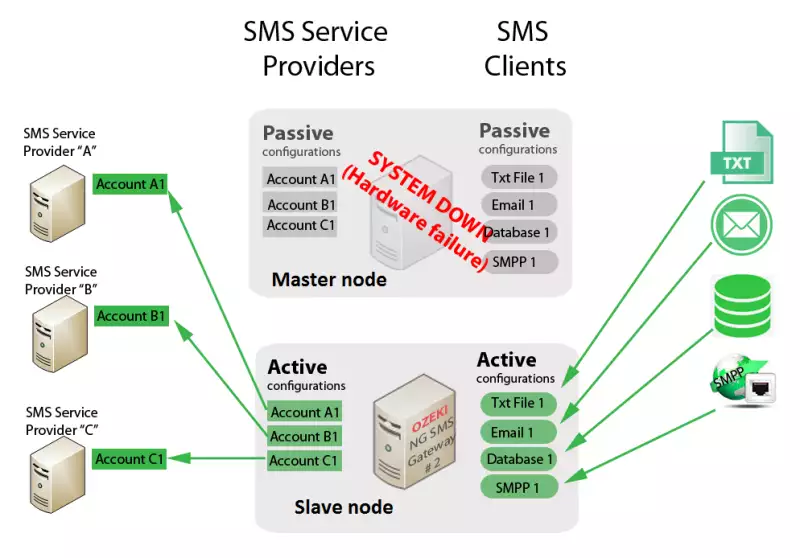 This is an example configuration, that demonstrates how to setup a failover cluster. This example configuration works on two servers (one primary and one backup), and it moves the Ozeki NG SMS Gateway service to the backup node if the primary server hardware fails.
File synchronization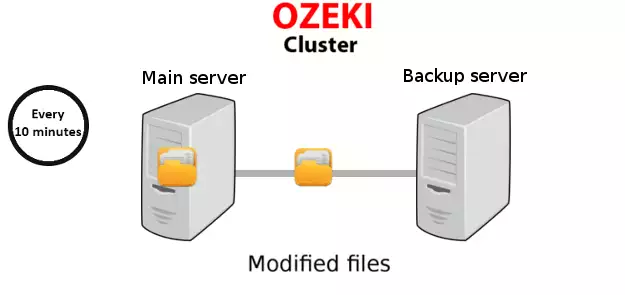 To provide a reliable backup service the files between the primary and the backup server need to be synchronized. Ozeki Cluster has a built in file system watcher feature, that check the directory periodically for changes and transfers new and modified files to the backup server. This feature is optimized to be able to work with large files. It can also handle very large directories (directories with several hundred thousand files)
Proceed to the file synchronization with Ozeki Cluster guide
Data sheet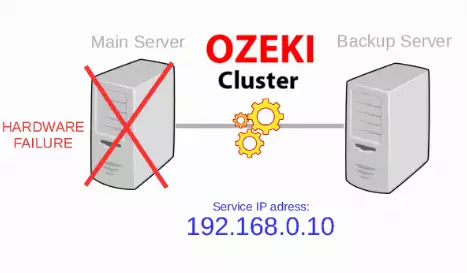 This data sheet lists all the hardware and software requirements of Ozeki Cluster and it shows the most up to date information about the software. In general Ozeki Cluster does not have any special hardware or software needs, it will work straight out of the box with most Windows computers.
Screenshots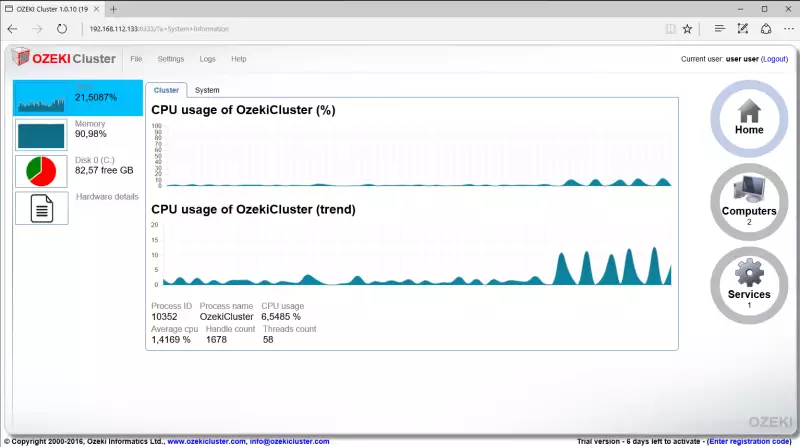 In this section, you will find screenshots and descriptions of the most important features of OZEKI Cluster. For example you will see how the screen will look when you setup the cluster IP and what the forms used to add a computers services to the cluster look like.
How to buy
You may purchase an Ozeki Cluster license by clicking on the following link:
How to buy an Ozeki Cluster license
How to activate a purchased license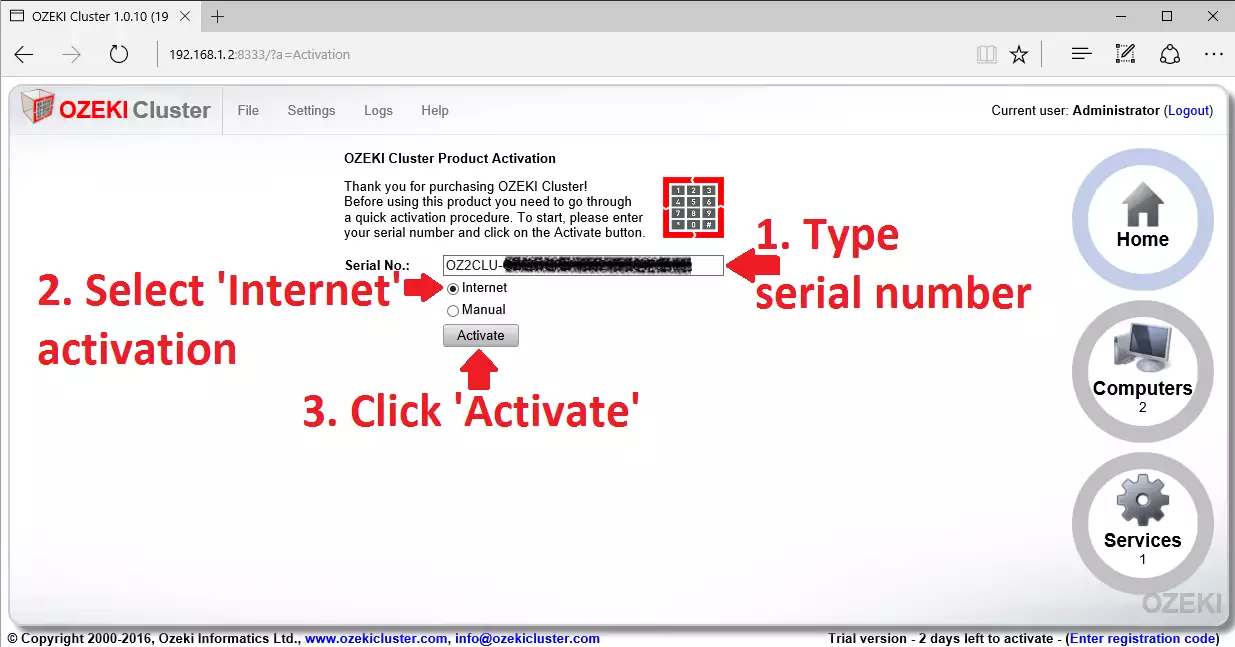 When you purchase an Ozeki Cluster license, you receive a serial number. The software can be activated with this serial number on your primary server and on the backup server(s). This guide gives you information on how to activate your Ozeki Cluster installation using the purchased serial number.